Services
LAWNMOWING

Lawns should be mowed on a regular basis, usually every 1- 2 weeks in Spring, Summer and Autumn moving to 4 weekly cuts in winter.

This is essential to help maintain a strong, healthy, compact lawn.

This is achieved by lawn mowing at the correct height (between 10-14mm), edging and whipper snipping.

At Just Lawns WA we only use top of the range commercial lawnmowing equipment which is serviced regularly and blades sharpened fortnightly to ensure the highest quality service.

All paths and driveways are swept clean upon completion of your lawnmowing service.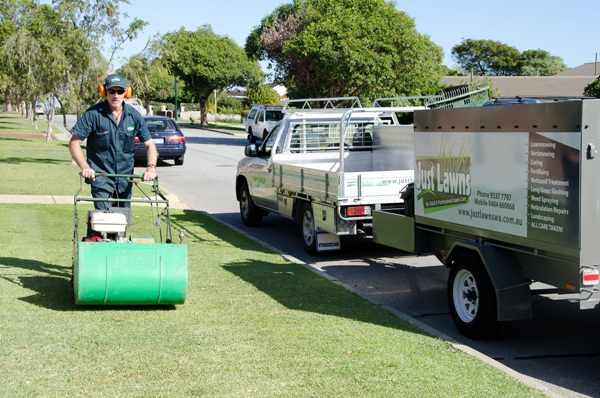 RIDE-ON LAWNMOWING

Just Lawns WA are able to offer Ride-on Lawnmowing services for larger domestic lawns or commercial jobs using Cox and Toro Commercial grade Ride-on Mowers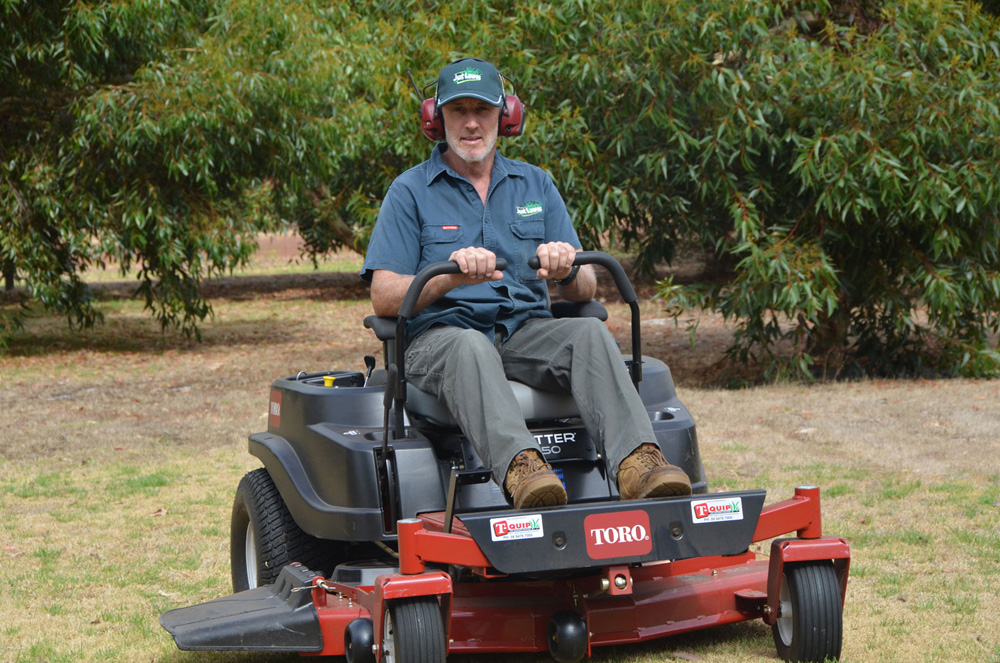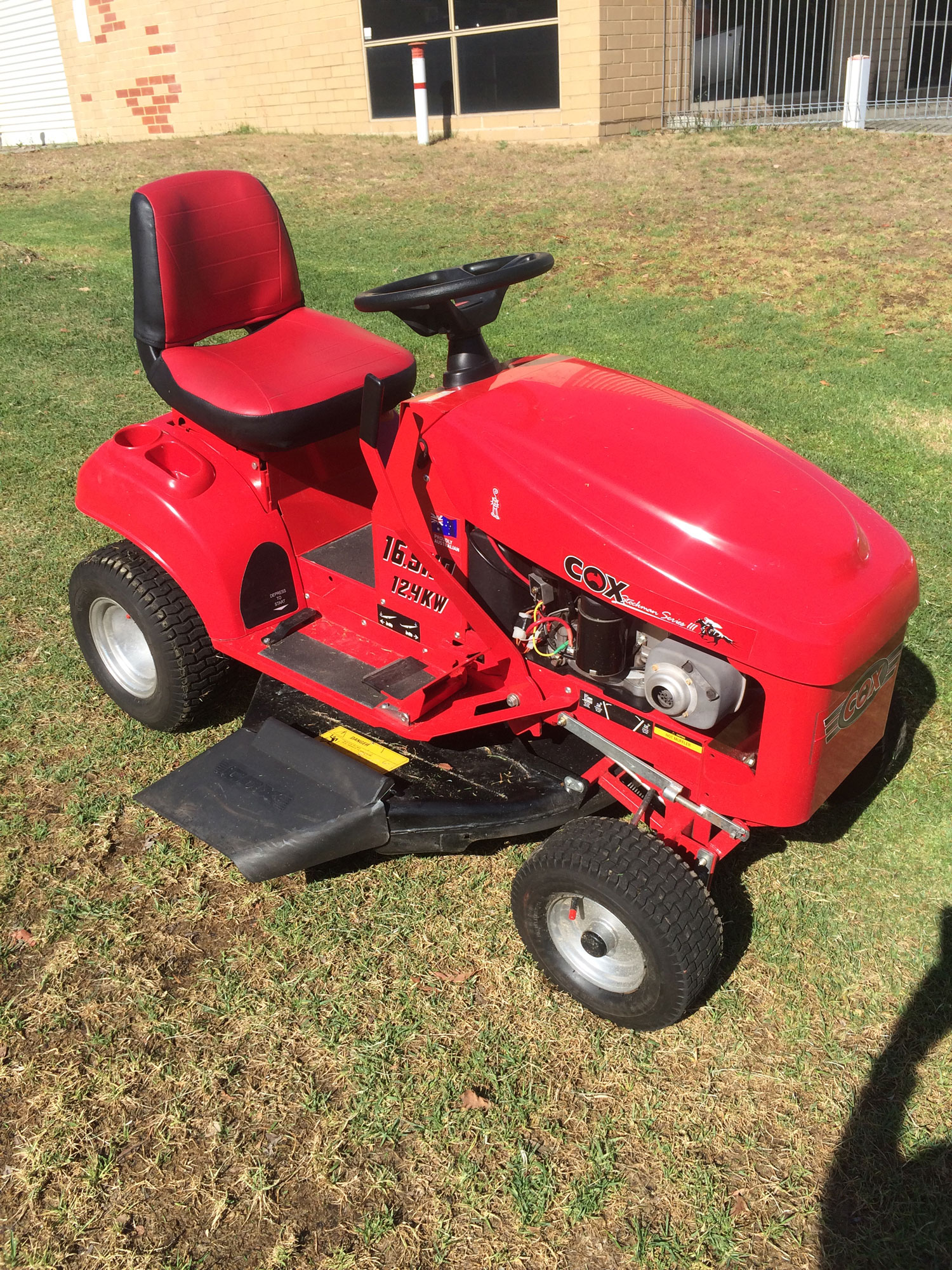 FERTILISING

Just Lawns WA provide fertiliser treatments for your lawn and gardens with a slow release granulated fertilizer.

This should be done at approximately 8 week intervals to allow for a steady release of nitrogen, phosphorus, potassium and trace elements to help promote strong root growth and a healthy lawn.

Fertiliser should be applied with a fertiliser spreader to ensure an even coverage. It should be used sparingly as to heavy an application is both a waste of money and excess fertiliser will not be used by the lawn and will end being washed into our waterways.

The fertiliser used is low phosphate to help our waterways.



WETTING AGENTS

Wetting agents are very important as much of the soils in the South West region are very sandy and can become hydrophobic, repelling water.

Wetting agents help maintain water at the soil around the roots and should be applied twice a year. Just Lawns WA uses a granulated wetta soil for optimum results. This should also be applied with spreader to ensure even coverage.



RETICULATION

Most problems with lawns and gardens are caused by inefficient or faulty reticulation systems.

Reticulation operation should be checked every 4 weeks so that problems such as blocked or faulty sprinklers, incorrect adjustment, broken pipes faulty controllers etc can be rectified before they become too big a problem.

With water restrictions in the South West areas lawns and gardens can only be watered twice a week off the mains or 3 times a week off a bore.

The Water Authority website contains information on your correct watering days. A deep even watering is sufficient to help maintain a healthy lawn. This will also help to keep your lawn weed free as the root system in lawn goes down 400-700mm, most weeds have shallow root systems which need more regular watering. At Just Lawns we use and recommend only quality sprinklers, controllers and associated fittings such as Toro and Hunter.

Watering your lawn should be done early in the morning, this allows water to penetrate to root system where it is needed, then as the day warms the lawn dries.

Watering late afternoon or evening means that the lawn will stay wet during the night helping to promote the spread of unwanted funguses.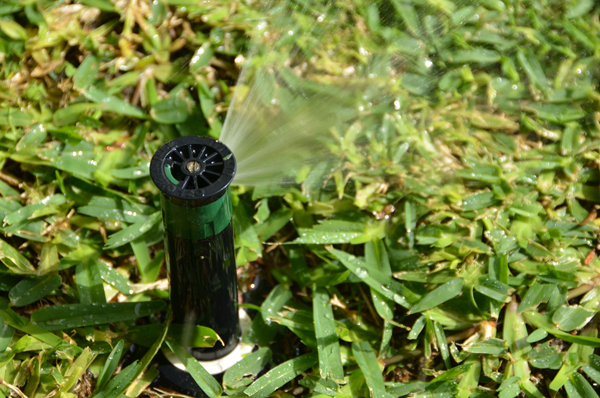 VERTIMOWING

Over time the buildup of broken down leaf and organic matter forms a layer underneath your lawn, this layer is called thatch.

A buildup of thatch causes your lawn to gradually rise in height . This creates problems with water, fertiliser and nutrient penetration, become difficult to mow and less resistant to pests and diseases.

Regular lawnmowing with commercial lawnmower will help reduce thatch, however lawns should be dethatched with a Vertimower once a year during the growing season (Sept-February).

Vertimowing your lawn will remove the thatch leaving the root system intact.

In conjunction with a wetta soil and fertiliser treatment vertimowing your lawn will help return your lawn to lush green and healthy state.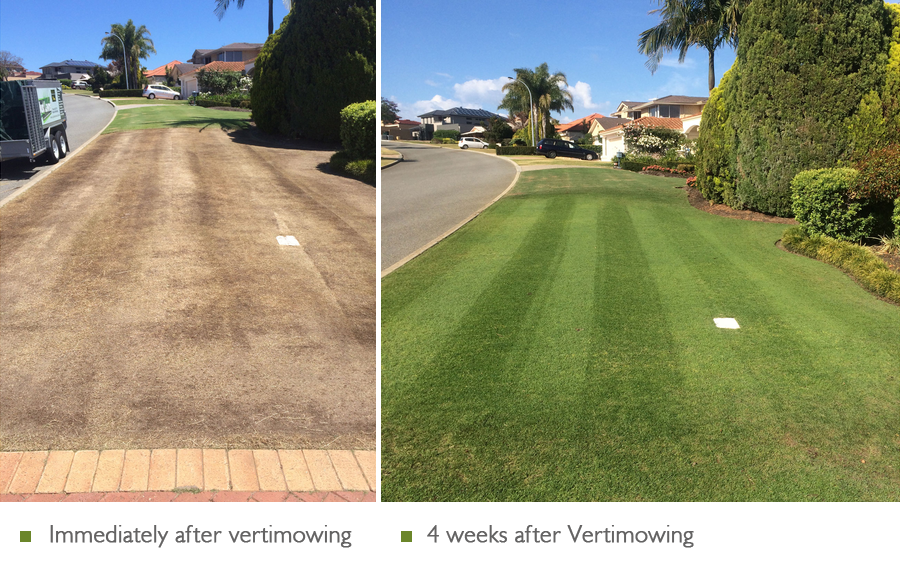 CORING

Over time lawns can become hard and compact preventing the penetration of water, fertiliser and air and thus preventing strong and healthy growth.

Coring is the process where a machine removes plugs of grass and soil about the width and depth of your index finger thus opening up the lawn.

This will also increase microbe activity and promote strong root growth. This is best done during Winter but can be done at any time the year. To achieve the best results lawns should be aerated once a year unless the lawn is to be vertimowed that year.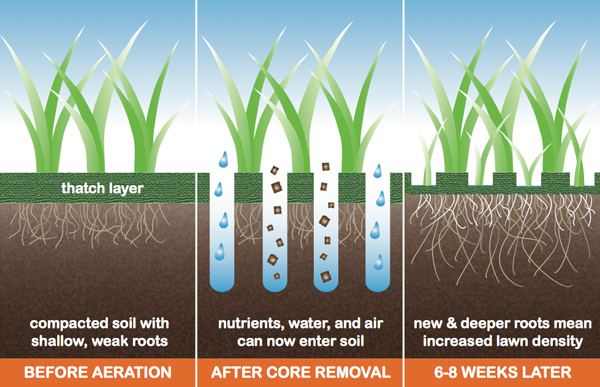 WEED AND PEST SPRAYING.

Keeping lawns weed and pest free is an ongoing problem with most lawns.

Weeds come into lawns in many ways. Seeds blown in by wind, bird droppings containing seeds, on shoes, bicycle tyres etc. Spraying for pre-emergent winter grass in Autumn and pre-emergent broad leaf weeds in Spring will help keep weeds at bay.

Weeds such as Bindii are best sprayed in August, funguses such as Spring dead spot and Dollar spot are best controlled with correct watering, mowing and aerating techniques as spraying can damage some of beneficial funguses.

Black Beetle can be treated but is not as common a problem as the concentration levels of beetle need to be very high.

Regular mowing at the correct height, fertilising, wetta soil treatments and regular watering done in the morning at not during the night (as this keeps the lawn wet as allows funguses to spread as lawn takes too long to dry out) will also help maintain a strong healthy lawn which will not allow weeds to get a hold.




Contact Steve today on 0404 660 868 to call out and discuss your requirements and get a FREE quote for the ongoing maintenance of your lawn.